Did you know that...
Moses is mentioned in every single portion in the Bible from Exodus through the end of Deutoronomy except for in this week's portion of Tetzaveh where He is not mentioned even once - why?
Tetzaveh is entirely dedicated to the service in the Tabernacle, the description of the garments worn by the High Priest, the building of the Tabernacle. The portion mentions Moses' brother, Aaron continually throughout the portion, but never Moses.
Commentators have offered various suggestions to this, the one I seem to like the best is given in the Talmud and refers to the beginning of Moses' encounter with God at the burning bush. Moses continuously expressed reluctance to undertake the mission of leading the people out of Egypt. Eventually God suggests that he work with Aaron, his brother.
The Talmud records a debate about the lasting consequences of that moment when Moses refused his mission one too many times. To refuse once or twice is a sign of humility, to do so more, is to risk provoking the divine anger.
According to Rabbi Shimon bar Yochai, the lasting effect of Moses' reluctance to lead was that one leadership role - priesthood - would eventually go to Aaron rather than to Moses. For this reason (and possibly others), Moses is completely excluded from this week's portion that deals completely with the priesthood.
This weeks portion deals with the construction of the Tabernacle, detailed descriptions of the priestly garments.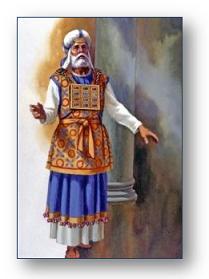 In Tetzaveh the role of the priests in the service of the Tabernacle takes center stage. For one the limelight is no longer on Moses, but on his brother Aaron, the High Priest. We read about the tasks of the priesthood, their robes of office and their consecrations, as well as further details about the Tabenacle itself.
Throughout this portion the focus is on aaron to the point where Moses isn't mentioned even once.
Second Opinion
Opinions, Essays, Cultural Observances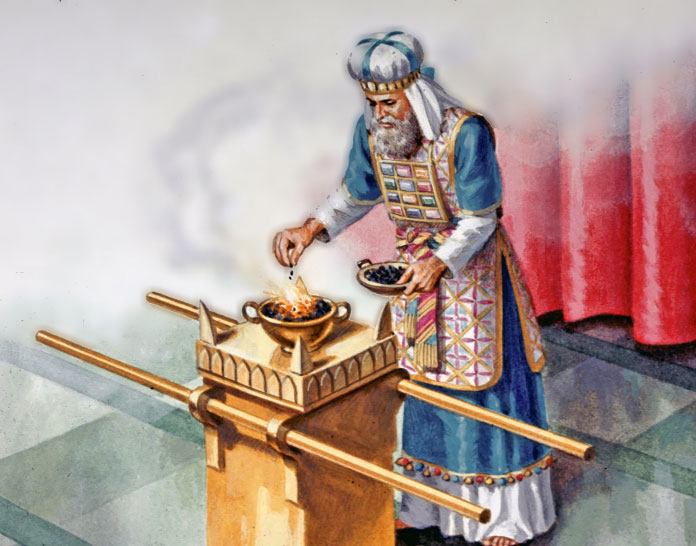 Spiritual versus physical
Judaism usually focuses on the inner qualities, not outward materialism such as clothing, so what is so important about the garments of the High Priest?