Did you know that...
Twice God renames Jacob to Israel, once when he returns to Eretz Israel from residing with Laban and then again following his struggle with stranger (angle) prior to meeting up with Esau. Even though God has renamed Jacob twice, the Torah never refers to Jacob as Israel - why is this?
In the case of Abraham and Sarah, as soon as God renames them, the Torah uses their new names consistently but this isn't the case with Jacob. The answer is the personality of Jacob. He is called Jacob since he was born holding on to Esau's heel and he spent most of his life looking up to Esau and trying to emulate him. He is only called Israel when he stands on his own, is sure of who he is and is not trying to emulate the other cultures around him.
Since the Torah refers to him as Jacob would indicate that he never really stopped attempting to emulate Esau. So it is with the Jews, when they stand on their own and are confident in their religion and identity they are known as Israel, however when they try to adopt the cultures of the people around them and lose their unique Jewishness, they are known as Jacob.
This weeks portion focuses on the events surrounding the meeting of Jacob and Esau after 22 years apart. Jacob's struggle with an angle the night prior to the meeting of the brothers. the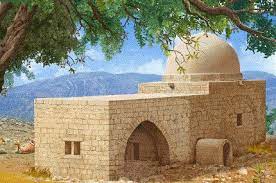 Most of Parashat Vayishlach is focused on the meeting between Jacob and Esau after 22 years apart. Hearing that Esau is coming with 400 men Jacob is greatly afraid and distressed. Jacon divides his camp into two groups so that if one group is anhialated the other may survive.
The night before the meeting, Jacob struggles with a man who turns out to be an angle. Before leaving Jacob insists that the angle bless him, the angle reluctantly blesses him and gives him a new name, "Israel", meaning one who struggles with God and prevails.
The next day the two brothers meet. They embrace and then go their seperate ways. The prasha ends with the death of Isaac and a genealogy of Esau's descendants.
Other events in this weeks portion:
Dinah, the daughter of Jacob is raped
Shimon and Levi Lead a massacre of the men of Shechem
Rachel dies during childbirth
Isaac dies
Second Opinion
Opinions, Essays, Cultural Observances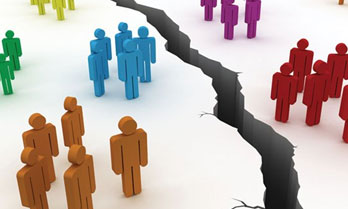 A divided camp
The first step on the road to unity is not the attempt to prove to the "other side" that we are right, but to put ourselves in their shoes and try to understand them, to recognize that without them we would be lacking and precisely because they are different from us, they complete us.